Professional Home Cleaning Services in Melbourne: Prices and Benefits
POSTED ON August 1, 2023
Are you overwhelmed by the thought of cleaning your home? Do you wonder if hiring a professional cleaning service is worth the cost?
We're all busy; everyone has 24 hours a day to prioritise their time between work, personal tasks, meeting friends and spending a reasonable amount of time with the family. And let's face it, saying it out loud won't help much! Try to squeeze in a bit of 'me' time, and cleaning the house often falls to the bottom of the to-do list. That's where professional home cleaning services come in. They've become our best friends, always ready to take on our cleaning tasks. And every penny spent on these services is worth it for the convenience and peace of mind they bring, and the saved time you could dedicate to something of higher priority.
Why More and More Australians are Choosing Professional Home Cleaning Services?
As more and more Australians discover the benefits they bring, whether it's simply outsourcing that spring cleaning project or getting regular help to maintain a tidy home, professional home cleaning services have become a popular solution. For example, imagine a busy working couple with young children who struggle to find time to clean their house deep. They hire a professional cleaning service once a week to handle tasks like vacuuming, dusting, and mopping, cleaning the bathrooms and toilet, and cleaning the kitchen surfaces. This allows the couple to focus on spending quality time with their kids while relieving them of the stress of keeping their home clean.
Whether you are after a professional cleaning company to maintain your home regularly or hire them to do the deep cleaning of the end of lease cleaning, professional cleaning teams are an asset, stress relief, transforming our lives and giving us a chance to find the time to get some fresh air.
Is anyone still bothered about the idea of hiring a professional cleaner?
The Advantages of Hiring a Cleaner: More Than Just a Clean Home
Let's review how hiring a professional cleaner can change our everyday lives and offer us a new level of efficiency, productivity, and peace of mind.
Book Some 'Me' Time
Instead of viewing cleaning as tedious, you could regularly book a professional cleaning service and reframe it as "me time." This way, you can use that time to pamper yourself with a beauty session, read a book, meet a friend, or indulge in a relaxing massage. Whether honing your
professional skills, working on personal growth, or spending significant time with friends, a cleaner can help you reclaim your schedule.
Reduce Stress
Clutter and disarray can contribute to elevated stress levels. By engaging a professional to handle the cleaning, you declutter your space and clear your to-do list, paving the way to awareness. If your home is cluttered and not clean, this could bring a lot of anxiety, it impacts your ability to focus, and as a result, you are not efficient and productive in your daily activities.
Efficiency and Expertise
Some cleaning chores can be notably time-consuming. Professional cleaners can quickly tackle tasks like Oven & BBQ cleaning, window cleaning, and tile and grout cleaning, which might take significant time and effort.
High-Quality Equipment and Detergents
Professional cleaners bring top-tier cleaning products and equipment you cannot buy in the supermarket, ensuring comprehensive cleaning. Achieving this degree of cleanliness can be challenging with standard household cleaning products.
Enhance Your Social Life
Less cleaning hours mean more time for socialising. Plus, a spotlessly clean home is always more inviting for guests, making impromptu get-togethers a breeze.
Considering all the benefits and advantages gained, using a professional home cleaning service becomes a no-brainer! A clean house enhances the aesthetics and significantly improves the overall quality of life.
Understanding the Costs of Professional Cleaning Services
The price of your cleaning service isn't just a number; it reflects the unique characteristics of your place. The devil's in the details, meaning there are a lot of specifics to consider, such as the size of your space, the number of rooms, and the level of cleanliness desired.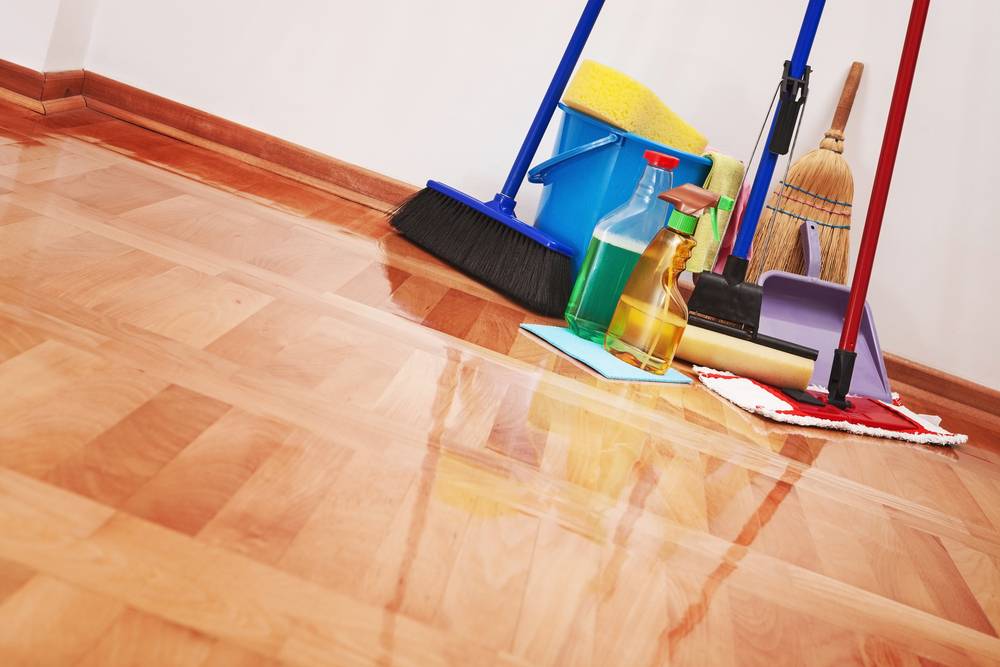 The Size and Condition of the Property
The size of your home is one of the most significant factors influencing the cost of professional cleaning. Larger homes require more time, cleaning products, and often more people to do the job. It's not just the number of rooms but also the number of bathrooms, which typically take longer to clean.
Larger spaces and more rooms naturally require more time and resources to clean, thus inevitably affecting the price. Similarly, a deeper, more thorough cleaning will cost more than a basic cleaning service. On the other hand, if you haven't been keeping up with the cleanliness of the space, it will require additional time and effort to restore it to its pristine condition.
Tailoring your House Cleaning Service
Professional cleaning services are not a one-size-fits-all solution. They can be customised to fit your specific needs and preferences. This customisation can be based on the areas to be cleaned, your cleaning priorities, and the level of cleanliness desired.
Consider the Cleaning Area
The first step in tailoring your cleaning service is to identify which areas of your home need cleaning. You may want only certain rooms or areas in your home cleaned during a session, while others can be tackled in subsequent visits or may not require professional cleaning at all. This flexibility can help you manage your cleaning budget more effectively.
Evaluate and Set Priorities
Are there areas in your home that need more attention than others? Do you want a thorough cleaning of your kitchen and bathrooms while the living room and bedrooms need a quick tidy-up? Setting your priorities ensures that the cleaning service focuses on what matters most to you.
Level of Desired Cleanliness
Are you after general cleaning chores like dusting, vacuuming, and cleaning the bathrooms and kitchen, or a deep cleaning service or a more meticulous one, including: under the sink area, dusting baseboards, windowsills, frames, and ledges, window and door frames and handles, and thoroughly dusting off the blinds one by one?
Before hiring a professional cleaning service, evaluating your cleaning needs is essential. Answering these questions will let you select the right service per your requirements and budget. Yet again, those are only some considerations to consider, especially if you are after an accurate price estimate. We're eager to share with you all the key factors that might affect the total costs of your housekeeping service!
Key Factors
Larger homes require more time, more cleaning products, and often more personnel to clean, which increases the cost. Homes requiring deep cleaning or special circumstances, such as pets or excessive clutter, may incur additional charges.
Frequency of Cleaning
Regular cleaning appointments can often lead to discounted rates. On the other hand, one-time or less frequent cleanings might be more expensive.
Type of Cleaning Service
The cost can vary depending on whether you're getting standard, deep, or specialised cleaning services (like carpet cleaning or window washing).
Location
Prices can vary based on location due to differences in cost of living, competition among services, fuel expenses, toll taxes, etc. Thus, travel compensation fees may be applied on top if you are in a more rural area.
Cleaning Detergents and Equipment
Some cleaning companies bring their supplies, while others may use what you provide. The cost can vary depending on these arrangements and the type of products used (e.g., eco-friendly products might be more expensive).
Overhead costs
The cost of labour includes the time and effort of the cleaners, along with the costs of superannuation contributions and workers' compensation insurance. If you decide to proceed with a Professional Home Cleaning Company, remember that they are responsible for covering these government-mandated costs.
Hiring a Private Cleaner vs. a Professional House Cleaning Company
Hiring a professional cleaning company might cost more than a private cleaner.
But why is that?
Professional house cleaning companies have Public liability insurance if they have to cover any accidents or damages that might happen during the cleaning service at the customer's property. The good part for you as a customer is that this is for your peace of mind. If any accident happens, the insurance has it covered. You won't have to worry about extra costs or liabilities.
Choosing an insured and registered business for your home cleaning is essential. It's the only way to avoid the liabilities and financial burden in case of an accident and the efforts of finding a replacement yourself.
Marketing and Selection Process
Professional House Cleaning companies also spend money to advertise their services online to get new customers. In other words, they're more likely to have a wide range of services and flexible scheduling options to meet your needs.
Another advantage of hiring a professional cleaning company is that they have a rigorous selection process for their cleaners and technicians. They conduct thorough background checks and vet their cleaners to ensure they are trustworthy, responsible and have attention to detail. This saves you the time and stress of doing your due diligence and worrying about police checks.
So, while you might pay a bit more to hire a professional house cleaning company, you're getting a lot of benefits that make it worth it. You're not just paying for cleaning services but also for safety, reliability, and peace of mind. If you are unhappy with the service, they have a complaints department to take care of their customers as the brand reputation and good customer service are essential to them.
Professional Home Cleaning Pricing Standards:
Hourly Cleaning Rates
Did you know that most cleaners in Australia charge between $35 and $60 per hour? The average hourly rate for house cleaning in Australia is approximately $47.50.
Hourly rates for house cleaning can vary depending on various factors, such as
The number of bedrooms and bathrooms (size of the property)
The property condition and the level of cleaning required
Type of service required (regular domestic; one-off cleaning; move-out cleaning)
Additional services that might be required
Property Location and access
Regular domestic weekly or fortnightly cleaning
The regular domestic weekly or fortnightly cleaning service in Australia typically includes various cleaning tasks to keep your home clean and tidy. While the service may vary depending on the cleaning company, here are some common tasks that are typically included:
General cleaning throughout the property: dusting and wiping surfaces and furniture, shelves; removing cobwebs; cleaning mirrors.
Floors: vacuuming and mopping all floors, including tiles, carpets, rugs, hardwood floors, vinyl flooring, etc.
Bathroom & toilet cleaning: including wall & floor tiles, shower area, bathtub, sinks, taps, faucets, mirrors, outside of cabinets.
Kitchen cleaning: cleaning of all surfaces, outside of all appliances, outside of cupboards, countertops, splashback, sink, faucets.
Most companies offer services that could be added on top of an extra charge - for example, changing bed linen, ironing, window cleaning, blind cleaning, wall spot cleaning, etc.
To better understand the cleaning cost per property, we have summarised the industry average cost per property type (the most common).
Most Common Property Type
Industry Average Weekly/Fortnightly Cleaning
Our Company's Average Weekly/Fortnightly Cleaning
2-bdr 1-bath
apartment
$120 - $170
$120 - $150
2-bdr, 2-bath unit
$150 - $190
$160 - $180
3-bdr, 2-bath
townhouse
$200 - $260
$200 - $220
Please note that some companies charge extra for detergents and equipment on top of the hourly rate. The industry minimum for the service is 2 hours per appointment.
It's important to note that the specific tasks and level of detail covered can vary between cleaning companies or individual cleaners.
One-off Deep Cleaning
Deep house cleaning services in Australia typically involve a more thorough property cleaning than a regular weekly or fortnightly cleaning. The service is requested for specific occasions or situations requiring a more intensive and thorough cleaning than regular maintenance. Some common occasions for one-off deep cleaning include:
Moving in cleaning: Clean the entire house or apartment before moving in or ensuring a fresh and clean environment.
Seasonal cleaning or Spring cleaning: Performing a deep clean at the beginning or end of a season to refresh the home and tackle areas that may have been neglected during regular cleaning. It usually also includes decluttering, organising, and cleaning the entire house thoroughly.
Post-illness cleaning: Disinfecting and cleaning the property after an illness to eliminate germs and maintain a clean environment.
Preparing for guests or after a party:
Clean your home before guests, such as family or friends.
Keep your house in good condition.
Ensure you are on top of things.
The One-off deep cleaning services provide an opportunity to thoroughly clean and refresh your home, addressing areas that may have accumulated dirt, grime, or have been neglected over time. Such areas are usually the bathrooms, kitchen, skirting boards, light fittings, etc. The best part is that most cleaning companies provide additional services that could be added and done by the same team - window cleaning, carpet and upholstery cleaning, oven cleaning, etc.
Remember to ask for a discount, as combining 2 or more cleaning services in one appointment benefits both the cleaners and the customer. Most cleaning companies have special deals that you could benefit from.
Please find below the average cleaning cost per property based on the most common types of homes.
| | | |
| --- | --- | --- |
| The Most Common Property Type | Industry Average One-off Deep Cleaning | Our Company's Average one-off Deep Cleaning |
| 2-bdr 1-bath apartment | $250 - $350 | $305 (5 hrs) |
| 2-bdr, 2-bath unit | $310 - $390 | $365 (6 hrs) |
| 3-bdr, 2-bath townhouse | $400 - $450 | $425 (7 hrs) |
In conclusion, professional house cleaning services are more than your ultimate solution for maintaining a clean and tidy home. They're about reclaiming your time, reducing stress, and improving your overall quality of life. While the cost of these services can vary based on several factors, the benefits they offer make them a worthwhile investment. Whether you're a busy professional, a parent juggling multiple responsibilities, or someone who values their 'me' time, professional cleaning services can provide the solution you need.
Ready to take the first step towards a cleaner, happier home and a more relaxed, productive you? Contact us today to schedule your first cleaning session!